5 Tips To Make Your Cotton T-Shirts Last Longer
Most of us probably owns at least 1 cotton T-shirt in our closet. How do you know if it's cotton? You just need to check the label of the T-shirt. It will most probably indicate the material composition details together with washing/drying instructions. Some of the T-shirts are probably worn off while some are still in good shape. Of course, quality of T-shirt does matter in a way. Some might be made of better cotton fabrics, while some aren't. Whatever it is, you still can save your T-shirts and make them last longer with these helpful tips.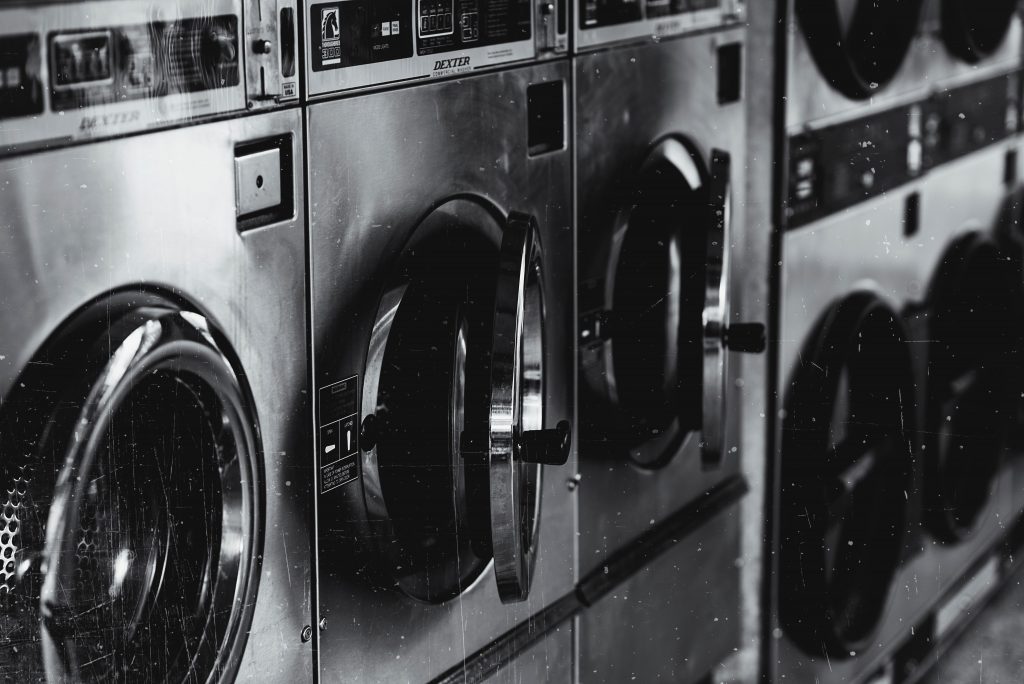 Image Source: https://www.pexels.com/photo/grayscale-photo-of-washing-machine-2254065/
1. Separate Out Your T-shirts (Sort Your Laundry)
i) Type of Clothing Materials
I know, I know… sometimes it's just a hastle to separate out your laundry and so tempting to just throw every clothes in one basket to the washer. But it might do more harm than good to your cotton t-shirts. You might want to try separating your t-shirts away from jeans/clothes with buttons, zippers etc to prevent getting it ripped or damaged. When you throw everything in the washer, every type of fabrics and designs get spinned together. Imagine it would be terrible if ever the zipper on your jeans so happen to rip your favourite T-shirts. That would be a disaster!
ii) Colourful T-Shirts
I'm sure we own at least a coloured T-shirt in the closet. However, we might notice some colour fading due to the quality of the T-shirt. The dye in the T-shirt can sometimes transfer onto some of our clothings and change the original colour of our cotton t-shirts. Hence, it's so important to separate out especially your whites from coloured clothings. A white shirt can look pretty, but not with stains or a colour change.
2. Turn Your T-shirts Inside Out
This tip is especially for printed t-shirts. There are various types of printing out there such as Silk screen, Direct-to-garment (DTG), Heat Press, Dye Sublimation etc. Although some printings may let your T-shirt design last longer than another, it's still always good to turn your T-shirt inside out when you wash. This is to protect the artwork/design and maximize the longevity of the T-shirt.
What's more? You get to clean the inside of your T-shirt more thoroughly. When your T-shirt is turned inside out, the inside of your T-shirt which is more exposed to your sweat & dirt gets a more thorough wash. So it's definitely a win-win here!
3. Always Wash Cotton T-shirts In Cold Water
When you are washing your T-shirts, keep in mind that cold is the good guy, while heat is the bad guy. The cold water will help prevent skrinkage while maintaining the ink on the printed T-shirt. However, given the situation whereby your T-shirt has stains, do wash carefully with hot/warm water. But of course, try avoid doing this often.
4. Cotton T-shirts to Stay Away From Direct Sunlight & Heat
i) Dry Them Under The Shade
Living in a place filled with sunshine almost everyday? Good for drying your clothes, right? Well.. It's tempting when the sun is out and all you want is to hang your wet clothes outside at direct sunlight to dry quick. But there is a better way to dry your clothes, especially coloured T-shirts if you want to make them last longer. Try putting them out but under a shade. The key here is to avoid direct sunlight for long hours so your coloured T-shirt wouldn't fade so quickly. Air drying or hanging indoors are better options so that the heat won't mess with the fabric.
ii) Avoid Dryers
Talking about heat, avoid puting your T-shirts in dryers. Yup it's a big no-no! The heat will cause the T-shirt to shrink and if you have a printed T-shirt, the design will tend to crack or peel.
iii) Avoid Ironing
So your T-shirts get a little wrinkle and you are thinking if it would be great to do a little ironing on the T-shirt. Just hold on there.. if possible at ALL causes, try to avoid high heat getting on your T-shirt. However, if you want to wear your favourite T-shirt out without the wrinkles, we suggest that you adjust the iron to the lowest temperature setting while turning the T-shirt inside out when ironing.
5. Use A Delicate Wash Bag/Mesh Laundry Bag for T-shirts
Yup you heard me.. If there is a favourite T-shirt of yours that you want to protect so much, you can get a mesh laundry bag and stuff your T-shirt in. You don't have to use wash bags just for undergarments. It will help to protect your T-shirt fabric and prevent other clothes from rubbing your T-shirt against each other.
So there you have it, here are some of the tips that you might find helpful to make your T-shirts last longer. Happy washing folks!
Don't forget to check out www.theteepeople.com!
Inspired by various blogs:
https://goodonyou.eco/the-ultimate-guide-to-making-your-clothes-last-longer/, https://www.shirtmax.com/blog/cotton-care-101-make-cotton-t-shirts-last-longer/