5 Reasons To Buy A T-shirt Brand From Malaysia (2020)
In this blog, let us give you some good reasons to buy a t-shirt brand from Malaysia.

1) Support Malaysia T-shirt Brands
As much as we Malaysians love buying products from other countries, we tend to put Malaysia brands or products as second class due to reasons such as the perception of better products overseas, low quality of locally made products etc. Now, let's talk about t-shirts, how many of us really buy T-shirts Brands from Malaysia? If I were to take a random guess, it will probably be 3/10 people among the audience. But let me tell you.. buying locally produced T-shirt(s) might just be one of the best decision that you will make. If you are proud to be in Malaysia, you will want to support locally made T-shirts, like The Tee People! Started off in 2020, The Tee People was created with the intention of allowing people to express themselves through our minimalist deisgns on a comfortable T-Shirt. Not forgetting quality and giving the best value to our customers.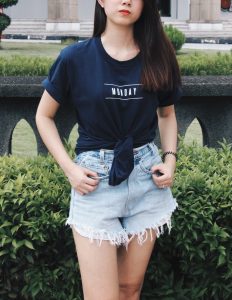 2) Quality of Malaysia T-Shirt Brand
One of the perceptions that Malaysians might have is the T-shirt quality here might not be up to standard compared to the material overseas. Shockingly, some T-shirts are priced quite high despite having these unfavorable qualities. Fortunately, Malaysia does have reputable brands with great T-shirt quality in terms of fabric, print method, durability, good design. We have many reputable T-shirts manufacturers and printing shops in Malaysia that provide good quality fabric. As a reputable T-shirt brand, The Tee People will ensure that the best quality is delivered to our valued customers. We have good relationship with our T-shirt supplier & printer to make sure the best quality is delivered to your door step! We always opt for Silk Screen printing which gives you good quality designs that won't wear off easily. Besides, our T-shirts are made of 100% combed ring spun cotton! Learn more here.
3) To Express Yourself Through a T-Shirt
We are in the era where people love to express themselves. If you were to see Facebook or Instagram or Twitter, users are being more expressive. So why not express yourself through a simple and creative T-shirts? You might be a traffic stopper when people see a dope design on your T-shirt. A simple design might even spark endless conversations and expressions. You need not have a super graphical or complicated design on a T-shirt to gain attraction. Yet, a simple design with plain wordings will do. Hence, The Tee People takes the minimalist approach and design T-shirts that is relatable to our moods & feelings in our daily life. Specializing in simple wordings with a minimalist approach, we aim to make our customers express themselves through our T-shirts, yet looking trendy and lit! If you are into simple and creative wordings, The Tee People's design is just for you!
4) Great T-Shirt Design by Malaysians
In your lifetime, you would see countless designs of T-shirts. It boils down to the type of style and design you like most. For The Tee People, we associate ourself as a minimalistic urban wear that you can style with anything. If you know nuts about fashion, we got you covered too as nothing can go wrong when you wear our T-shirts. Pair it with any outfit, you are good to go. Be it at home, in the park, out in the mall, or functional events, you can freely wear our T-shirts and style it with a stylish blazer or jacket. Any day and time is good time to wear The Tee People's designs. Be the cool one and stand out among your peers. Remember to thank us when people stares and admire your Tee People Shirt!
5) Because Malaysian T-shirt Brands Are Cool!
The title says it all! There are a number a popular homegrown apparel brands that has been in Malaysia for years. And it's growing popularity. You can look dope too in The Tee People's design. This fresh minimalistic design allows you to express yourself, be it your daily expressions or emotions in a cool way!
Nuff said, be sure to check out www.theteepeople.com. Happy shopping!